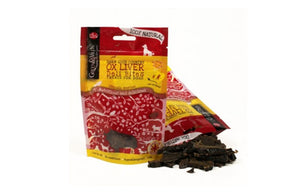 Ox Liver Treats, 100% Ox Liver

Our tasty little liver treats are small pieces of naturally air-dried 100% Ox liver. High in nutrient-rich organ meat that most dogs really love, liver is also a good source of copper, iron, niacin, phosphorus and zinc.  Our Ox liver Deli bites are also a great source of omega-6 fatty acid.  This helps your dog develop a shiny coat and provides a barrier to lock in skin moisture.  They are gluten free and have a tremendous source of vitamins A and B.  Suitable for dogs with food intolerances too.
Ingredients: 100% pure Ox Liver
Analytical Composition:
Protein: 50.6%, Oils & Fats:8.9%; Fibre:6.9%; Inorganic matter; 3.8%
The perfect complimentary treat for your dog, no more than 5 treats per day. Always make sure your dog has plenty of fresh water.
---